Originally developed by Macromedia, Flash was introduced in 1996, and is currently developed and distributed by Adobe Systems, as the result of their 2005 purchase of the company. The precursor to the Flash application was SmartSketch, a drawing application for pen computers running the PenPoint OS developed by Jonathan Gay, who began working on it in college and extended the idea for Silicon Beach Software and its successors. When PenPoint failed in the marketplace, SmartSketch was ported to Microsoft Windows and Mac OS. Once the Internet became more popular, SmartSketch was re-released as FutureSplash, a vector-based web animation in competition with Macromedia Shockwave. In 1995, SmartSketch was further modified with frame-by-frame animation features and released as FutureSplash Animator on multiple platforms.The product was offered to Adobe and used by Microsoft in its early work with the Internet (MSN). In 1996, FutureSplash was acquired by Macromedia and released as Flash, contracting "Future" and "Splash". Since 1996 flash have change the web although it has its minuses for SEO purposes flash animated website have fascinated viewers with complex and realistic animations and special effects. And because of its capability to use utilize video, sound, 3d and other 3rd party special effects Flash will always be favorite tool to create stunning experience. Enjoy this collection of more than 250 flash animated websites we have collected from around the web.
Collection from bestpsdtohtml.com
Babybel
Get The Glass
Monoface
2Advanced Studios
Magnivate
SL Dimension
Aris Labs
Corny Kurier
Water Life
Coca Cola Happiness Factory
National Grid Floe
Rodrigoqueiroz
The Eco Zoo
See Blue
Prism Girl
Mercedes Benz
Cloudy With a Chance of Meat Balls
Mooo You Win !!
knutselwereld
GT3 Creative
Home Digital
HL Fragrance
Wonder Wall
Skodayeti
Sam Broadbent
Scruffs Game
Lotie
Guitar
Vobnedir
Gotmilk
Collection from smashingmagazine.com
The Flagship Experience
Welcome to the American Airlines – featuring Business and First Class service between the United States, Europe, Asia and Latin America.
ELSE Mobile
ELSE offers a totally new definition of what a mobile device can be. ELSE is a totally new concept driven purely by user experience rather than by technology.
Wonderwall
Wonderwall is an interior design firm established by Masamichi Katayama. Its portfolio includes commercial spaces such as retail spaces, restaurant and bars, as well as office showrooms and building complexes that are distinctly unique in design and yet attentive to function.
The Editing Table
Nicola Walbeck
The Wrong Door
The Wrong Door, BBC3's new comedy series set on The Asteroid
Silenzio
A movie poster maker and marketing agency. The website is directed by Unity, Web artistic direction Jocker / CREAKTIF(Axel Corjon), development, motion design Lab9.
Falcon's Treehouse
Headquartered in Orlando, Florida, Falcon's Treehouse is an experienced design company specializing in master planning, attraction design, special venues, destination resorts, theme parks, media production, museums, science centers, and more.
SeymourPowell
SeymourPowell Product Design Consultancy are experts in Product Design, Product development, Consumer Product research and industrial design consultants. This Product Design Company is based in London UK.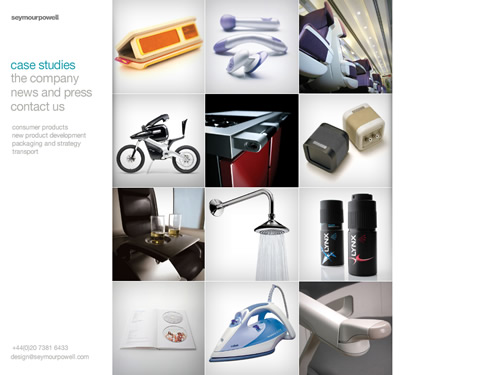 Martin Anderle
Fruit Shoot
Browse the new Fruit Shoot website with how-to videos for beat boxing, soccer skills and much more!
Breathe Architecture
Quality and style are central to Breathe Architecture's unique sustainable designs. We expertly combine environmental and aesthetic principles to create stunning buildings with a lighter footprint.
History of Flight
Know Your History. Soar through Michael Jordan's amazing career at History of Flight.
The Sound of Orange RockCorps
You can create your own unique track with your mates and unleash it online. You can also connect to your facebook and you can see which of your friends have already taken part.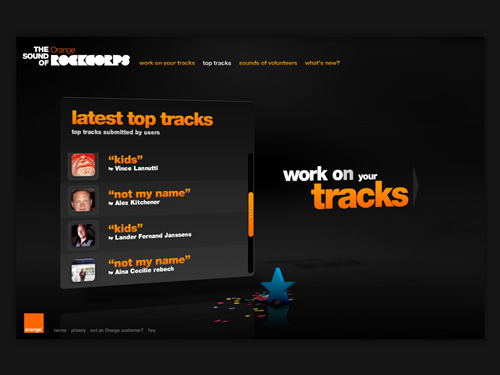 Saab Change Perspective
When you look beyond the obvious, you open up to alternative ways of seeing things. As you gain a different perspective on the world, you also bring a certain attitude to everything you do. To Saab, this means building cars unlike any other. Here you can share this view.
addidas outdoor
Real Casual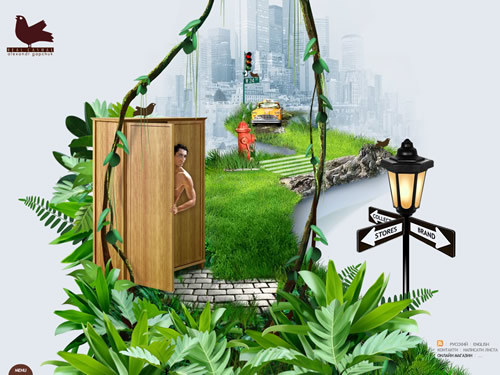 Cartelle
Cartelle is a creative unit based in Amsterdam, founded by Johnny Slack & Stevijn van Olst. With a small agile team of professionals, Cartelle delivers high quality interactive experiences. Constantly looking for fresh solutions, we offer new creative approaches in the ever-evolving digital landscape.
Cloudy Meat Balls
Columbia Pictures' and Sony Pictures Animation's Cloudy with a Chance of Meatballs will be the most delicious event since macaroni met cheese. Inspired by the beloved children's book, the film focuses on a town where food falls from the sky like rain.
JPEG Interactive
Jam is a creative director, an experienced web designer, a veteran Flash developer and the co-founder of Shanghai-based web creative agency 01media.
Imagining Mozambique
The traveling art show collective, 'Imagining Mozambique' is a fundraising drive for ASEM, a non-profit organization that helps the children of Mozambique.
LBi Atlanta
LBi Atlanta is a leading full service digital agency. They have developed a successful business by fusing strategy with creativity, and technology to create highly effective marketing and business solutions.
Shinkansen and Love
2Advanced
Coca Cola Zero
Coca Cola Zero – Real Coke Taste, Zero Calories. The official website of Coca Cola Zero. Watch Commercials. Play Games.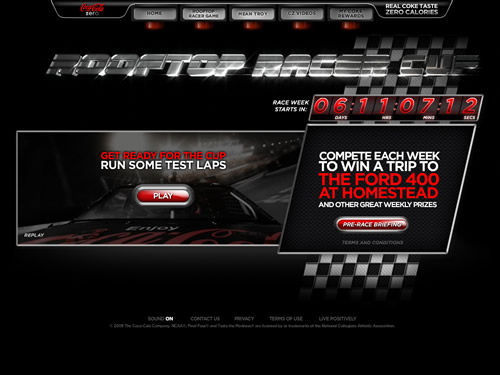 Parasol Island
Parasol Island is producing nationally and internationally awarded film, animation and interactive projects for exclusive client portfolio – ranging from companies in the lifestyle and entertainment, as well as, consumer industries.
Hobnox Audiotool
SoInteractive
DigitalKick
Mercedes AMG
Toyota iQ
Toyota iQ – Virtual Test Drive.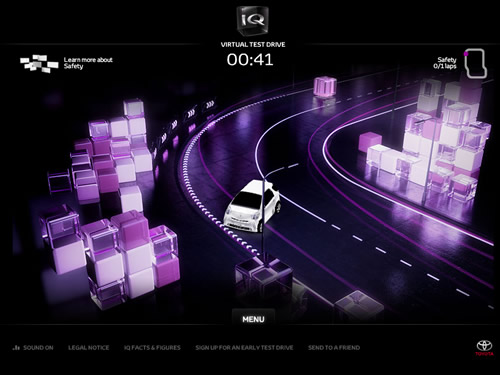 Nissan Cars UK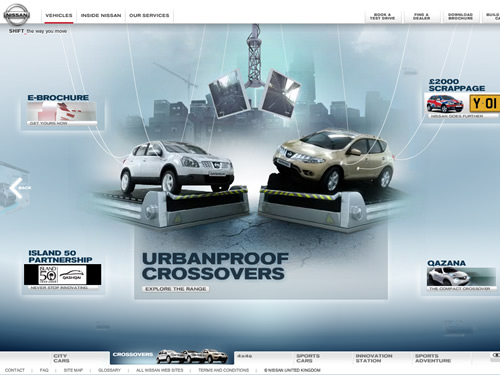 Ocean Recon
Royal Australian Navy Submariners – DefenceJobs
Want to know what goes on inside a Collins Class Submarine? Dive below the surface for a unique view of the inner workings of Australia's silent fleet. Complete real-life missions to earn your submariner dolphins and experience life beneath the surface.
Oddo Design
This is an award-winning graphic design firm that helps companies build stronger brands, increase sales, improve customer retention, and educate customers and employees. Now located in the Texas Hill Country, just outside of Austin, Texas, the firm was originally established in 1989, in Houston, by Tommy Oddo.
Dvein 2009
Motion and Interactive Studio based in Barcelona, Spain. DVIEN creates Live Actions, Motion graphics, 3D Animations, Flash, and Films.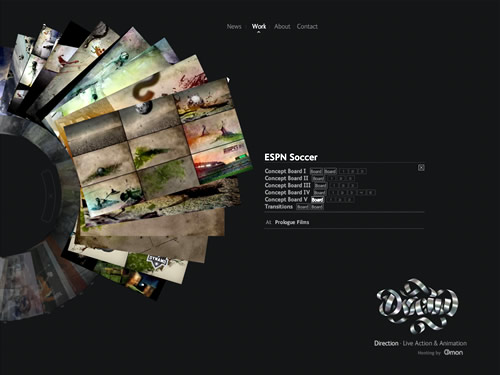 Sony Bravia
Collection from machoarts.com
Collection from hongkiat.com
Tag Galaxy is a very good flash application that uses Papervision3D with beautiful transition effects to explore Flickr photos via virtual planetary systems. You enter a tag and related tags appear with beautiful planetary systems.
Flash 3D game. Beautifully made.
You can design your custom iPhone case in this cool Flash application.
Creative idea with fantastic effects.
Wedding planner site from Italy. Elegant design with romantic background music.
Flash presentation of Stefan Kovac's selected web & interactive work.
Beautiful graphic design, and nice animations. The website also has game.
This is the site of Ukrainian freelance designer Oleg Kostyuk.
Interactive Design Portfolio of Daniel Kusaka from Brazil. Interesting design.
Portfolio of Ricardo Dias featuring web and print contents. Gorgeous design, and inspiring idea.
LECH beer in 3D
Cool robots with cute animation.
You can make your own cappuccino art and save to gallery. McCafe from McDonalds.
Bernard Testemale's professional photography portfolio site.
Use The Profiler to visualize what's behind your profile picture, and discover what goes on in your friends' heads. You can connect with your facebook.
Red Bull Soapbox Racer is a 3D racing game in Flash.
Featuring Toyota cars: Yaris, Auris, Corolla, Avensis, Camry, RAV4, Prado.
hiroshi seo is a photographer from Japan.
Bloody Rage 2 is a 3D Fighting game created in flash using Away3D engine.
2Advanced Studios
Sean Kingston Sing Along with Lil Sean Karaoke
Twigital is an interactive 3D twitter visualisation in Flash.
interactive, broadcast, art, motion, sound design, and flash development.
The RailAway Express is an Away3D experiment looks like a roller coaster.
Amazing view of New York City 2009 virtual tour.
Eminem's new album website.
DJ Hero website for DJ lovers.
NIGHTWISH – Saizen Media Studios portfolio of selected works. Extremely beautiful graphic design and stunning animations.
Collection from 1stwebdesigner.com
Excellent digital artwork and animation – dreamy scene!
One of my favorite designs – check it out to understand why!

Seriously check out this creative design and development website – you gonna love this – so elegant!
Very creative and beautiful animation saturated webdesign, note interesting flash preloader and line animations when sections loads at first.
Beautiful typography and mouse hover effects, award winning website.
Sticky, sticky, very sticky website!
Very nice loading effects – on images, text animation while loading the page – indeed beautiful work!
Elegant and light Cyril Louis website, nothing more, nothing less.
Indeed interactive and unique approach.
A lot of twisting cubes and elegant approach in this website.
Interactive and creative design company encouraging you to go for change!
Very clean, subtle and professional photography website design, just seems very harmonic and elegant!
This is one more beautiful photography flash webdesign, but this one stands out with really huge photographies in full screen leaving everything else in shadow. But photography is his profession, author really shows quality of his works here.
Extremely creative design agency with really a lot of animation going on their website, get cocktail of all the best features!
This interactive website gave very strange and inspiring satisfaction feeling!
Beautiful interactive 3D environment and animation.
So cute preloader – really made me smile!
Very catching game with scientific taste!
Company specializing in film animation industry, check out their videos there not only webdesign!
Private web-designer and art director flash website with interesting design and subtle animation.
Colorful branding website with subtle, but cool animation, i think this is very good way to display text and finished works!
Interesting animation effects, mouse hover their logo to create each letter colorful!
Award winning website, voted as one of the best websites in 2008 – unique project display here and beautiful animation.
I would describe this site as simple elegance!
Browse through sections and you'll notice website is full with beautiful digital artworks and animations showing their skill on every step!
One more award winning website – draw and discover yourself what's on the site!
Great typography, background animation,preloader and really good color schemes throughout whole website!
Very inspiring – share the beat!

Crazy design in totally good way!
Interesting approach how to display many projects vertically in nice timeline. I just love that white grunge background.
Interesting 3D text approach and in background is going on animation where author just moves all the time creating interesting feeling.
Beautiful colors and elegant sliding effects displaying all the finished projects and everything else in one page!
Nice 3D effects going on in background which are by the way all the finished projects – impressive.
Clean and elegant design company's website!

Nvidia website is full of beautiful effects, I enjoy the most creative spotlight section, where people tell about their passions and feelings working at Nvidia, creative facial videos.
Really unique website board which is designer Dave Werner's home site.

Simply gorgeous and elegant photography website
Very unique portfolio page though actually I enjoy whole website from start to finish!
Truly amazing website!
Website built in one very interesting kind of house!
Very exclusive Alfa Romeo car company's website.
Really amazing mouse hover effects – try them out!
Almost all big companies have created beautiful website, Nike is no exception, check it out!
From design point of view sketching preloader was the one, which cached my interest!
Maybe I am not so big fan of CocaCola, but I totally love their website! Cannot even describe how elegant it is!
I am sure you have seen creative video advertisements in cinemas, this is original website created like interactive game!
Website preloader is really stunning like whole website design!
Just sit back and be inspired! Excellent 3D work has been done here!

Very interactive illustrated and animated design! I typed "1stwebdesigner" in love letter to get nice effect!

Very strong and powerful website, interesting game and interesting ego customization options.

Huge vector artwork and animation effects has been added to this site, lovely.